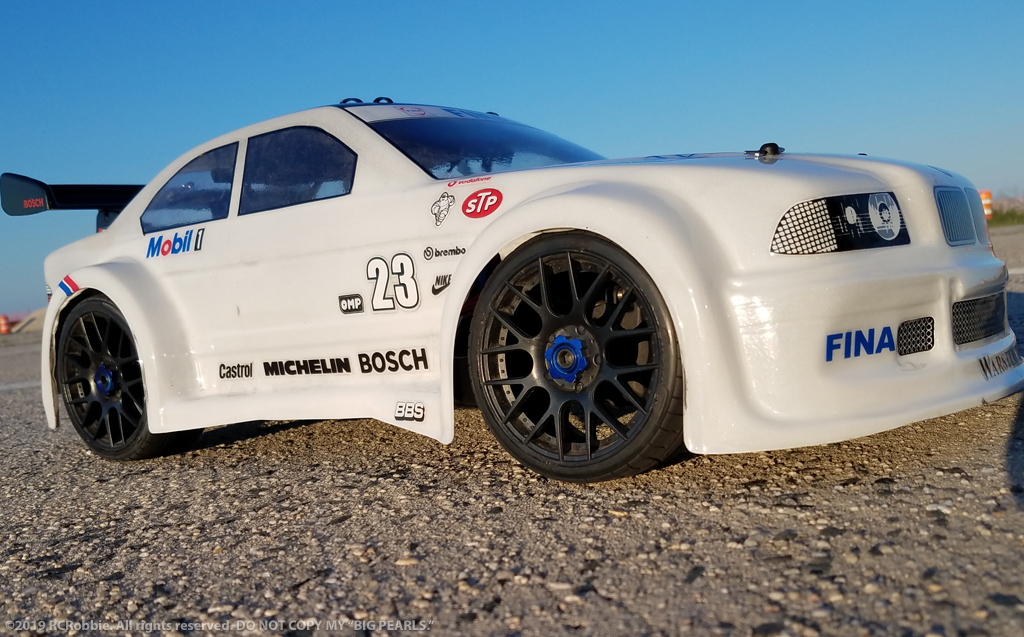 When I re-started my RC addiction with the Traxxas Slash 4X4, and made the wise choice dubbing it the "ultimate" platform (ie: car frame and base options, affordability, durability, cost for repair, cost for upgrades and upgrade options OEM and 3rd Party), it sent me down a path I never saw coming. I took my first step about a month later on May 23rd, 2018.
I was using metal cutting sheers at that point, not knowing all of the neat little tools that make the end-product come out better and better.
Big Pearls – the M3 – was a true challenge as a first project. Post-cutting the OEM body to fit ProLine Trenchers without a lift to avoid steering rub in the tough bumps, I wanted a challenge but wasn't thinking stripes. Just a nice color, but a great color at that!
Instead of just white – why not a pearlcoat!? You have to apply the perfect amount of shine, do it in a few accurately sprayed layers, and then back-it with your favorite color (in this case plain white). Take more time for drying the pearl so your masking lines don't bleed as you layer 12+ coats of paint!
(Sidebar – I love the painting, so some may say I get nuts with the coats of paint, but for me I'd put 20 coats if I thought it would create additional depth of in paint's look, but in reality it won't. It's not clearcoat – painting reverse is different that real automotive painting in this regard for sure. Go with enough paint to block any illumination from your backyard door light, when you hold it up and look through it. THEN – back it with a white, silver or black.)
When I did Big Pearls – I knew of no useful short sidebars like the above. I did this as a hobby waiting for Coders to get back to me throughout the middle of the night! Over time I have become better at understanding the outcome of my paint coat drying times, the outside temperature, paint can's temp…, etc… more "pearls" on that later.
(Risky Note – When I was fully done with the most stickers I've yet to apply to a car, I hacked the roof with some style to get the OEM speakers in from the factory model – lol – it worked! When the M3 whips by it sounds amazing. (Note: 19T Gear timed the sound from the Slash to be much more realistic for a street car than a truck. 19T comes with the truck, so no additional expense is fun! The holes in the roof with the matching zip-ties look like baseball mitt stitching to me.))
The total M3 to Big Pearls conversation was less than $80 for the body and paint, plus ~$125 for the tires, hubs, and a neat wrench that makes it easy to do. THIS EXPENSE WAS WELL WORTH IT!
Since Big Pearls, I have created 14 additional custom street cars ALL matched to these perfect, flawless, life-time loving rims and tires. What a bargain!!!!