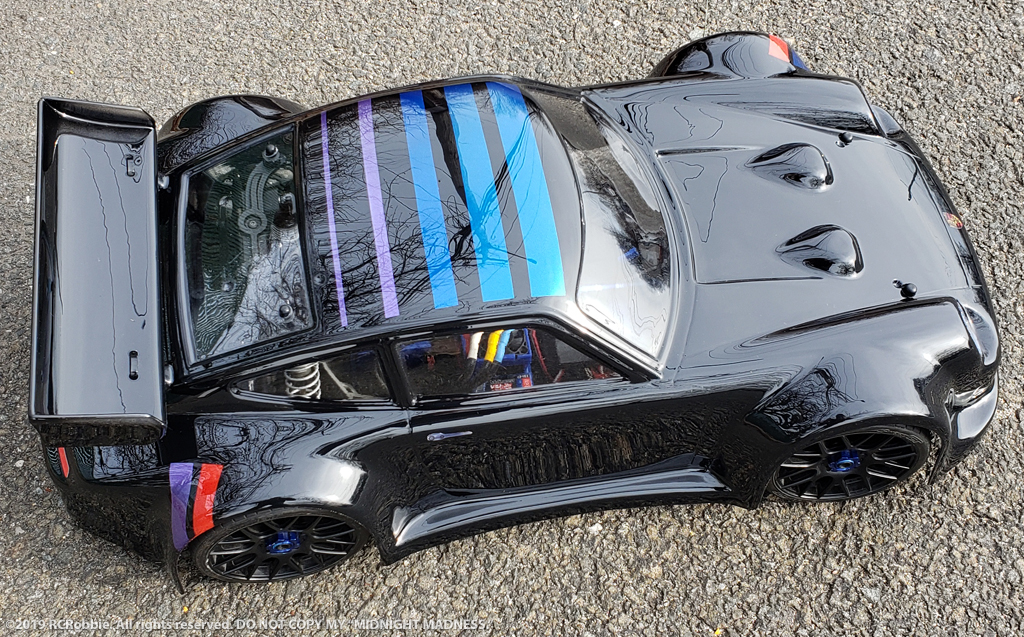 Black is the most interesting automotive color in my opinion. With countless variants, nothing comes close to a jet-black perfect gloss paint job.
That opinion changes rapidly based on the overall condition of a car's paint job as it ages, and the cleanliness of the car, because a dirty black car isn't the same. No lust for that.
In the RC world painting in reverse is the standard inside-body technique (ie: dark to light), so gloss is achieved with a flat paint behind a glossy clear plastic – pretty neat huh!?
You can create a flat-paint look if you paint the outside of a body, but I'm not so into that yet. I like functional, and if I flip, I can't look at something that messed up. I'd go crazy over trying to restore it, and as far as I can tell once you paint these bodies, it's really hard to remove scratches in the plastic, etc. I may put some bandwidth towards solving that challenge one day, if a solution doesn't yet exist (drop a dime if you know).
Back to perfect black, and how simple it is to achieve it. The only thing you have to know is it takes time. Your first coats should go down super-thin and take a while to start to blot out light – 7 coats.
Once that dries you can start to really lay it down, and this is the best part, give that sucker a nice solid coat a few more times.
When you peel-off the outer protective layer, you'll see not only your face in the shine, but it will be deep. More color in your reflection, and more "resolution" with a wet evenly coated black with not little defects trapped.
Sounds like it doesn't matter, but when you do 12 bodies before a simple solid black, you learn a thing or two. I'm glad I pleasure-delayed one of my favorite colored cars.
The stripes were added because I love a challenge. Picking colors to mix glosses and metallic paints was not only challenging, but very rewarding.
To me, black, blue, royal purple and a spot of red is a regal look. I love a hot classy car!